Sourdough starters have been a critical part of all basic sourdough pancake recipes. However, very few people tend to spare a second thought to the unfed starters left after the first cooking steps – also known as the starter discard.
Instead of throwing it away and letting good ingredients go to waste, why not make some good use out of it? Here's the best sourdough pancake recipes from the starter discard. Keep scrolling for more details!
In This Article
What Is Sourdough Discard?
The leftover, unfed starter most people leave aside during the starter steps of making pancakes is called "sourdough discard." In simpler terms, they are "waste" from the original sourdough starter.
For beginners: sourdough starters combine water and wheat flour that is already in the middle of the fermentation process. Their combined power fosters the development of wild yeast and bacteria, which lends the pancake and bread their unique leavening strength, texture, and flavor.
And hence, the starter thrown away after the fermentation is referred to as "discard," but I see no reason why it should be.
After all, the discard is filled with beneficial bacteria and yeast – or, long story short, exactly identical to your original starter. Rather than letting it go to waste, smart people would use starter discards for all types of recipes, savory or sweet alike.
The Best Pancake Sourdough Recipe From Discard
In this recipe, the sourdough discard is used as the overall pancake batter. After 12 hours of rest, the other ingredients are added to complete the pancake.
But long batter resting time aside, I've completed the pancake in just 25 minutes for preparation and cooking, so don't draw back from it yet!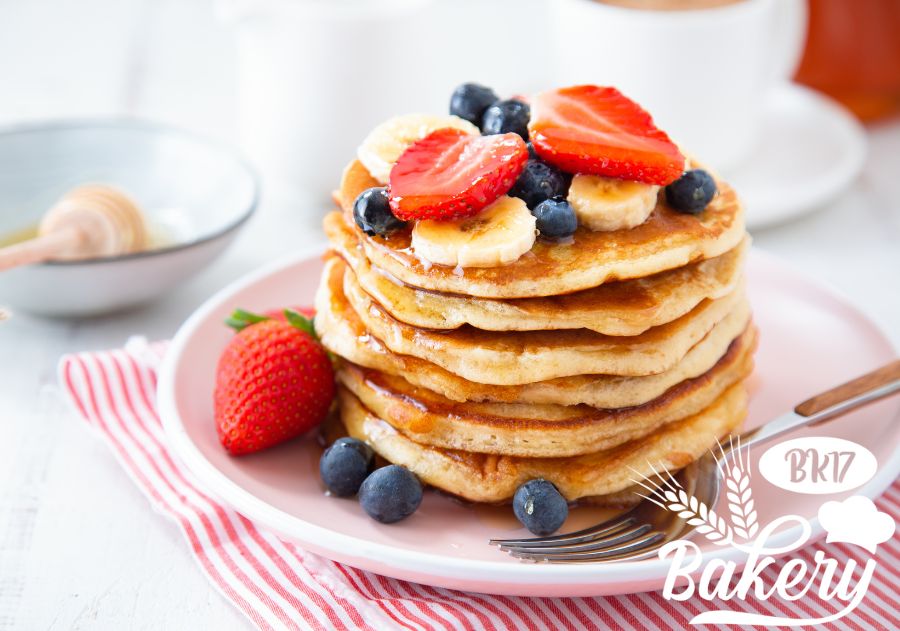 1. Ingredients
1/2 cup of starter discard
Milk or buttermilk
All-purpose flour
Melted butter
Granulated sugar
Vanilla
Egg
Teaspoon baking soda
Teaspoon salt
Baking powder
Fresh fruit, maple syrup, and butter (for servings)
2. Instruction
Step one. Make overnight sourdough pancake batter
Use the flour and sourdough discard to prepare the batter – preferably 12 hours before the due date to allow it more ferment and bubble time. As such, your pancake will turn out extremely tender, soft, flavorful, and easy to digest.
Step two. Add other ingredients in the morning.
The morning after, add other ingredients into the mix (leaveners, butter, egg, etc.) And, of course, do not forget the baking powder and baking soda, which helps manifest a softer and fluffier texture for your result.
Step three. Cook your cakes
Let's get down to the most important part! Heat your skillet at medium heat, then add some oil or butter (the latter is my favorite since it is absorbed more easily). Cook the cakes until both sides turn golden brown.
Step four. Enjoy your hard work!
Congratulations! Now spread some butter over the top, drizzle it with maple syrup and several berries. The pancakes look delectable and mouth-watering more than ever, ready to be served to your loved ones.
3. Other Variations
Fruit. My family loves fresh/frozen blueberries, so I see no reason not to add some! After pouring the batter into my skillet, I use blueberries to top the cake's uncooked side. Other fruits like bananas will also work great.
Chocolate chips. Fans of chocolate chips can rejoice: these dishes pair great with fluffy pancakes. Once pouring the batter into your skillet, you can sprinkle some chocolate chips on the uncooked sides.
Nuts and cinnamon. Mix about 1 spoonful of cinnamon with your batter. Wait 1 or 2 minutes, then add some chopped pecans or walnuts. The rough yet tender flavor intertwining will make anyone squeal in delight!
Extra Tips For Your Sourdough Discard Pancake
Give the batter more time to rest, flip the cake only once, use butter for better colors, and avoid overmixing the ingredients. Remember these tips, and you are already on the go to the best sourdough pancake ever made!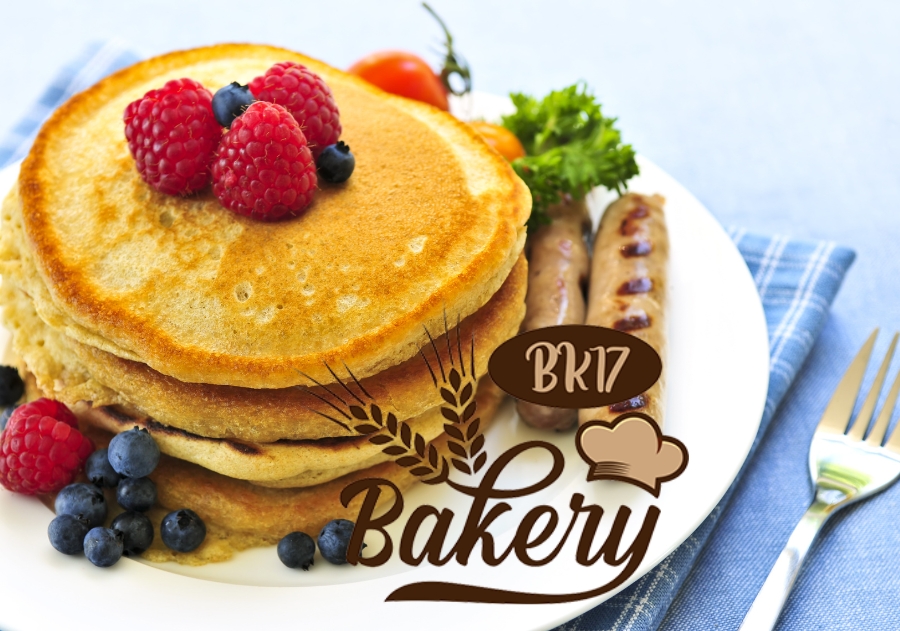 Give The Batter More Resting Time If You Want Lighter Pancakes
If you have already prepared the cake overnight, there is no need to pay much attention to this tip.
However, for those making regular pancakes on the same day (no overnight resting), you should let the batter rest from 15 to roughly 30 minutes. The flour will be thoroughly hydrated that way, resulting in fluffier pancake textures.
Avoid Over-Mixing The Batter
When adding dry ingredients and flour to the batter, avoid overmixing. Otherwise, flour's gluten will expand at a neck-breaking speed due to excessive water, lending the pancake an overly tough surface!
I often use my rubber spatula to fold the wet and dry ingredients into each other. After several minutes, no dry streak is left, allowing me to continue my cooking spree with total peace of mind.
Flip The Pancake Only Once At The Correct Timing
During the main cooking process, let your pancakes heat on one side first until the bubbles are shaped at the top and remain that way without closing. Wait a few more minutes until the edges grow darker than the other parts of the batters; it's a cue to do the flip!
Quickly and firmly flip the cake to let the heat handle the remaining side, and that's it. No more flips!
Use Butter To Achieve The Most Beautiful Color
Before dropping your cake batter into the skillet, I suggest prepping the skillet with small butter pats first.
As butter gets absorbed easily, it smooths out the texture on the top to yield the best speckled, golden color, wowing everyone in my family!
What Toppings Will Go Well With Sourdough Recipes Pancakes
Aside from butter and berries, other amazing toppings to consider are avocado, hummus, pickled onion, cheddar cheese, beans, leeks, eggs, and Greek yogurt. They excel in both flavor and nutritional value, adding more edges to the already delectable sourdough pancakes.
Avocado
As the crowd's all-time favorite, avocado earns many positive reviews thanks to its buttery, creamy, and rich texture, promising to offer healthy flavor and fats to any sourdough bread.
How to use it? First, slide an avocado open, then scoop its flesh out with your spoon. Pile thin slices onto the pancake before drizzling some fresh cilantro and lime juice to add flavor. If desired, sprinkle a little pepper and salt in the mix, too!
Hummus
Easy and delectable, hummus is unbeatable when it comes to dipping/spreading sources for delicious pancakes and bread. It adds more flavored layers to the dishes without changing or twisting their original texture.
To each their own, but most people prefer to dip their pancakes into hummus while the cakes are still freshly warm from the skillets or ovens. The sizzling, tangy flavors almost melting against the tongue are hard to forget!
Pickled Onions and Cheddar
Their presence on my list should not come as a surprise. Cheddar cheese has always been a familiar addition to every breakfast table, while pickled onions can spice up the pancake's savor without being overpowering.
Fava Bean And Caramelized Leek
Another classic pairing that no seasoned cooks should skim over! The creamy, soft textures of fava beans complement sourdoughs better than most, while the leeks disrupt the consistent flavor tempo with some new twists to give new impressions to the all-too-familiar recipe.
Eggs
Eggs serve as a healthy source of protein for your daily sourdough treats. Plus, they are easy to use: simply crack the eggs into your pan and fry until cooked, then cut them into quarters and lay them atop the cake.
Greek Yogurt
Like eggs, greek yogurt also oozes in healthy fats and protein – an amazing choice to boost body energy during breakfast. Furthermore, pairing it with chocolate chips or fresh berries will be a match made in heaven.
Can You Freeze Fluffy Sourdough Pancake Discards?
Yes, you can; freezing starter discard can extend its shelf life further for future baking recipes. However, it would be best to freeze mature, active starter discards (at least three to four months old).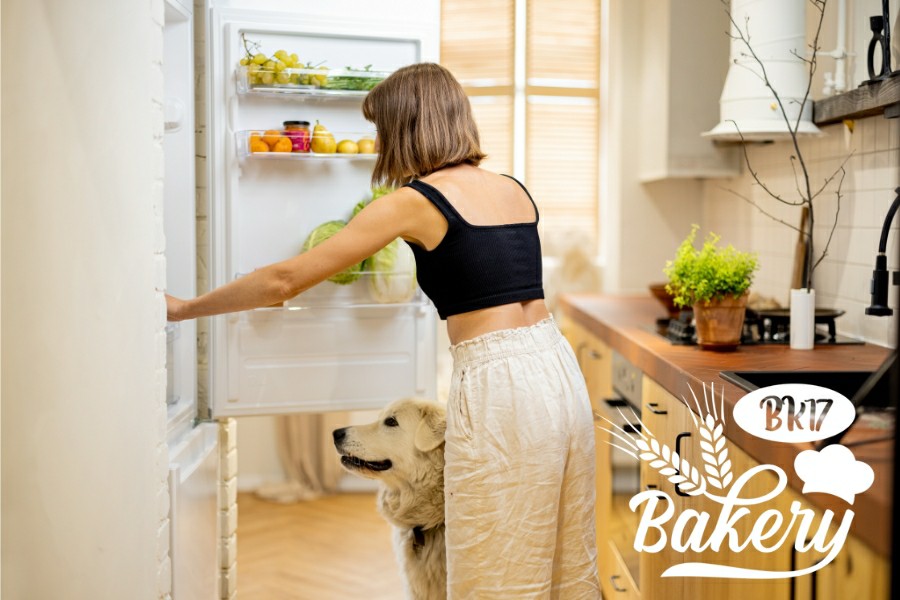 Storing new starters in the freezer is not a great idea; at that time, the yeasts were not properly established to survive chilly temperatures. Instead of keeping them alive, this method might actually kill them!
Conclusion
Starter discards are identical to starters (duh), so throwing it away is quite a questionable move.
Instead, you can make the most use of them by following my guidelines for sourdough pancake recipes above. If you still have questions, write to me for more support.