Banana cheesecakes taste quite like banana bread – except for the tangier yet sweeter notes that make them a popular dessert choice for thousands of households.
And making one at home, thankfully, is straightforward, even for beginners. My article will explore different banana cheesecake recipes to follow.
In this article:
Banana Cream Cheesecake Recipe
The baked version is manifested by topping a fresh cheesecake with Bavarian cream to yield a smooth texture. The no-bake version, on the other hand, arrives with crusts, creamy fillings, and toppings of fresh bananas and whipped creams; no oven is needed!
A. Banana Cream Cheesecake Bake Version
Total cooking time: 2 hours and 10 minutes
Servings: 12- 14, with bananas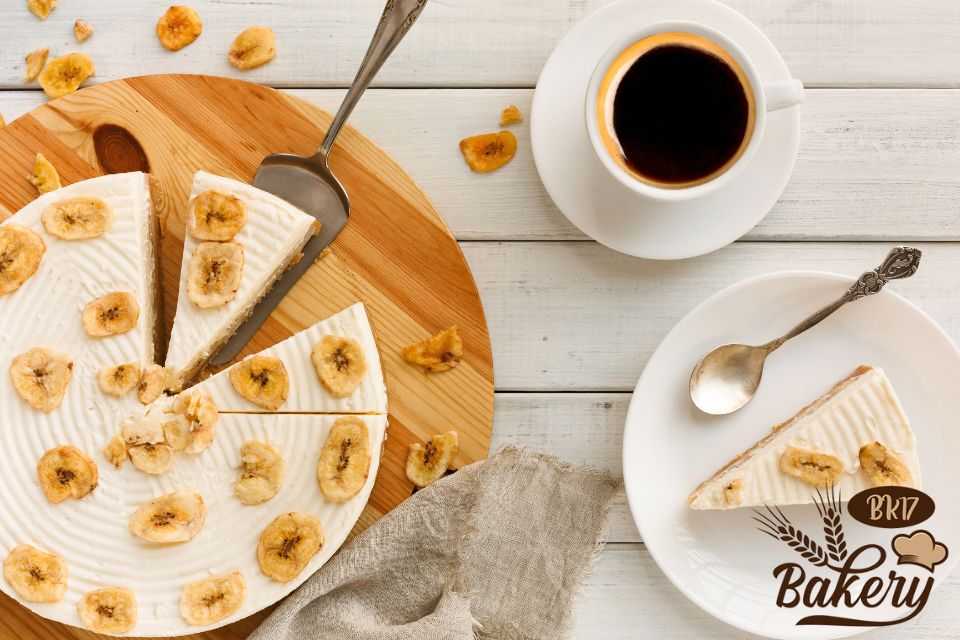 1. Ingredients
a. Crust:
Sugar (39g or 3 tbsp)
Melted, salted butter (140g or 10 tbsp)
Crumbs of vanilla wafers (302g or 2.25 cups)
b. Cheesecake Filling:
Cream cheese (678g or 24 ounces at room temperature)
Sugar (207g or 1 cup)
All-purpose flour (24g or 3 tbsp)
Sour cream (58g or 1/4 cup at room temperature)
Banana extract (4 tsp)
Pureed banana (240ml or 1 cup)
3 eggs (large, at room temperature)
c. Bavarian Cream:
Powdered gelatin (1 tsp)
Milk (30 ml or 2 tbsp)
Egg yolks (2)
Whipping cream (Heavy, 120ml or 1/2 cup)
Sugar (26g or 2 tbsp)
Vanilla extract (3/4 tsp)
Banana extract (1/4 tsp)
Cold whipping cream (160ml or 2/3 cup)
Powdered sugar (36g or 5 tbsp)
d. Whipped Cream Toppings
Heavy, cold whipping cream (1/2 cup)
Powdered sugar (1/4 cup)
Vanilla extract (1/2 tsp)
Sliced bananas
2. Instructions
a. Crust:
Step one. Preheat your oven to 163°C or 325°F. Then line a 23cm (9-inch) pan with parchment papers at the bottom. Grease its sides.
Why 9 inches? Some of you might wonder. Well, I have tried dozens of times with smaller or bigger ones (yeah, not every housewife will stock a pan of this size in their kitchen), and the results were terrible.
A too small one made the batter spill over the sides, and the cake would deform or even collapse due to inefficient support. Meanwhile, a too large one thinned out the batter, and the cake came out paler and drier. Trust me; 9 is my golden number after trials and errors.
Step two. Place all crust ingredients into a bowl and whisk them. Press that mixture against the pan's sides and bottom.
Step three. Bake for about ten minutes. Set it aside and wait for it to cool down.
Step four. Use aluminum foil to cover the pan's outside to prevent hot water infiltration. Set the pan aside.
b. Cheesecake:
Step one. Reduce the oven temp to 148°C or 300°F.
Step two. Beat the flour, sugar, and cream cheese in a bowl until the ingredients are smooth and well combined. Keep it at a lower speed to restrict added air to the mixture, which might otherwise lead to cracks. Scrape down your bowl's sides.
Step three. Add banana extract and sour cream. Mix them until they are combined, and again, at low speed.
Step four. Add pureed bananas. Mix until combined at low speed.
Step five. Add eggs (one by one) into the mixture and whisk. Scrap the bowl's sides to ensure all is combined.
Step six. Pour cheesecake batter onto the crust.
Step seven. Place the previous pan into another bigger pan. Fill the bigger one with warm water that raises to half the smaller one's sides. Remember not to let the water go beyond the foil's edge.
Step eight. Bake for about 1.5 hours. After that, the center, though still jiggly, should feel settled.
Step nine. Turn the oven off, then close the door for about half an hour. While still cooking, the cheesecake will start to cool down, too.
Step ten. After 30 minutes, crack the oven door open to let the cheesecake keep cooling down. That way, no cheesecake cracking can occur.
c. Bavarian Cream:
Step one. After the cake finishes cooling, put milk in a bowl, sprinkle some gelatin on it, and put aside.
Step two. Whisk egg yolks in another bowl, then set aside.
Step three. Add 0.5 cups of banana extract, vanilla extract, sugar, and heavy cream to a big saucepan. Heat on medium temp until warm.
Step four. Pull your cream mixture off the oven temperature, then pour some hot cream onto the eggs.
Step five. Next, add that cream mixture and the egg back to your saucepan. Continue cooking it on medium temptation until the mixture becomes dense enough to coat a spoon's back or reaches 160°F. Both scenarios should not take much time.
Step six. Add your gelatin mixture to that hot cream. Stir until they are smooth.
Step seven. Pour custard into a basin, setting it into another basin over ice. Let it cool down to room temp.
Step eight. While waiting for the custard to cool down, add 2/3 cup or 160 ml of powdered sugar and whipping cream to a huge mixer bowl. Whisk fast until the stiff peaks are shaped.
Step nine. Now that the custards are ready, fold the cream gently into the custards. Make sure the step is carried at room temperature, keeping the cream from melting or wilting.
Step ten. Remove water bath wrappings from your cheesecake and spread Bavarian cream on top of it evenly. Refrigerate for 5 to 6 hours until the cheesecake is completely firm and cool.
d. Topping:
Remove the cheesecake from your pan. Add ¾ tsp vanilla extract, powdered sugar, and whipping cream to a huge mixer bowl, and whisk fast until the stiff peaks are shaped.
Once done, pipe whipped cream swirls around the cheesecake's edge.
3. Extra Tips
I like to top my cheesecake with caramel sauce or chocolate drizzles for extra flavor. Sometimes, to spice it up, I use fruit sauces as toppings in my recipe, such as blueberry or strawberry.
My little daughter even loves to sprinkle some crushed almonds (any nuts will do) on the surface, which I promise will complement the cream just right.
Graham Cracker crusts can serve as wonderful cheesecake crusts. Other delectable options I have tasted are Biscoff, Golden Oreos, or Oreos cookies.
Though ripe bananas are always considered the standard, I strongly suggest yellow bananas for this recipe. Too-spotted bananas, otherwise, might change the cheesecake's color.
B. Banana Cream Cheesecake No-Bake Version
Of course, we busy moms never want to squander 5+ hours just to make a cake, but this recipe still helps if your house has no oven like mine used to, so I had learned and tried this recipe for my nagging kids back then.
Total cooking times: 5 hours and 20 minutes
Serving: 8
1. Ingredients
a. Crust:
Crumbs of Graham crackers (1 3/4 cup)
Brown sugar (1/3 cup)
Salted, melted butter (8 tbsp)
b. Cheesecake Filling:
Cream cheese (16 ounces, softened, room temp)
Banana cream puddings (3.4 ounces or 1 box)
Sour cream (1/4 cup)
Powdered sugar (3/4 cup)
Vanilla extract (1 tsp)
Whipping cream (3/4 cup, ideally 40% fat)
Bananas (2, sliced)
c. Whipped Topping:
Whipping cream (1.5 cups)
Powdered sugar (1 cup)
Vanilla extract (1/2 tsp)
2. Instructions
a. Crust:
Combine the melted butter, brown sugar, and cracker crumbs, stirring until they are blended. Press the mixture up the sides and bottom of a pie dish.
Refrigerate it until the fillings are ready.
b. Cheesecake Filling:
Step one. Combine and beat your cream cheese with a hand-held mixer in a medium bowl.
Step two. Add sour cream, vanilla extract, banana cream puddings, and powdered sugar, beating them for 2 minutes until blended and smooth.
Step three. Add the whipping cream, mixing in 4 minutes or until it gets thick.
Step four. Place the sliced bananas at the base of your crust, then spoon and spread the filling on top evenly. Cover everything with plastic wrappings and refrigerate overnight (or 5 hours at minimum).
c. Whipped Topping:
Place vanilla, powdered sugar, and whipping cream into a bowl. Beat with a standing or handheld mixer until the stiff peaks are formed, which should take 4-5 minutes.
Top your cheesecake with this topping. Enjoy!
Can You Freeze Banana Cream Cheesecakes?
Yes. You can freeze them, whether in slices or as a whole. The fresher the cake is during freezing, the better the result; freezing them when the cake has already been left for 3-4 days at room temp is not a great idea.
Some assume this sentiment does not apply to no-bake banana cheesecakes, but my experiments have proven otherwise. I can let them chill in my fridge just as with any other baked cake.
Does Cheesecake Taste Better Cold Or At Room Temp?
These cheesecakes taste best when served fully chilled (refrigerated overnight or for at least 5 hours). However, frozen cheesecakes can be a bit difficult to remove from the pan; the best bet is to run a knife along their sides to detach them from the pan's walls.
But, of course, to each their own; some can still find delight in room-temperature cheesecake and its soft, light savory notes, like my family members. I often let the cake stand for about half an hour at room temp (to let the texture settle) before enjoying it.
Is It Okay To Make Cheesecakes 2 Days in Advance?
Yes. And not just two days; you can even make the cheesecakes weeks in advance, guaranteeing you store them with proper freezing methods.
Specifically, I often place individual cheesecake slices on the baking sheet (though you can put a whole cake there if desired), wrap them in plastic wraps, then put them in heavy-duty, sealed plastic bags. My cheesecakes can be frozen for up to two months that way!
Conclusion
Whether you opt for the baked or no-bake, the banana cream cheesecake recipe is straightforward. However, as they can be frozen for months, I suggest using the baked methods to produce more servings (12-14) in one go. Write to me if you still have questions!