Pizza is a perfect choice for crowded parties. This is true, but what if you want to enjoy a delicious meal yourself? Then go for a small 10-inch pizza that costs less but still satisfies your craving. The common question is: how big is a 10-inch pizza? Scroll down to learn now!
In This Article
How Many Slices Are In A 10 Inch Pizza (Round And Square)?
As a rule of thumb, most restaurants divide 10-inch pizzas into 6 pieces. However, some may just cut it into 4 large pieces. I've also seen a few pizza chains try to cheat by subdividing as far as 8 or 10 delicious slices so that customers mistakenly think they have more.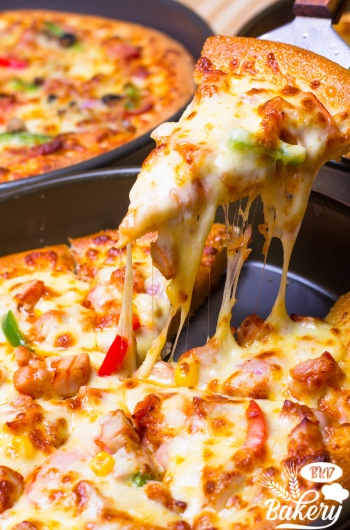 In general, the number of pizza slices depends on the business strategy of each pizza restaurant, but you can also ask the seller to follow your intentions.
An interesting fact about the 10-inch pizza is that it also comes in a square shape but is not very popular. You will often find this option divided into four large pieces. Some places can cut it into 9 pieces using a thin crust.
How Many People Does A 10 Inch Pizza Feed?
The first thing worth mentioning is that a ten-inch pizza measures about 78.54 square inches. That said, this option is relatively small and only for 2-3 people.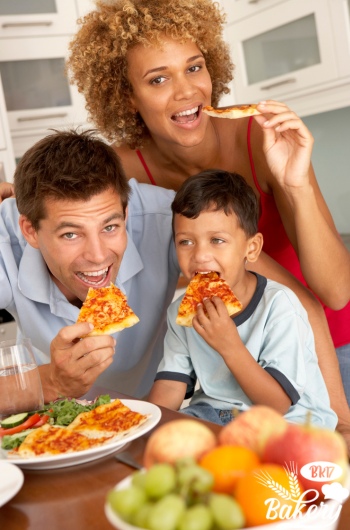 A friend of mine, Mike, an intense athlete, can even tackle it in about 10 minutes.
Therefore, a 10-inch pizza is not ideal for a crowded picnic or a family gathering unless you are ready to have additional food, such as salad, pasta, fries, etc. If you plan to order one for your event with only soft drinks, make sure the event is simply a cozy dinner for a couple.
When Should You Order 10 Inch Pizza Size?
As noted, 10-inch pizza was never born for crowded and bustling events. Once you prepare to invite 2-3 guests for a movie session or cozy gathering, make sure they do not have large palates.
This pizza size is also a good choice if you want to organize a small party for kids without spending too much money. I used to buy 2 10-inch pizzas for a gathering of my daughter with her 4 friends. The small size makes it easier for them to swallow, and that amount was just enough for 5 kids.
However, do not underestimate the appetites of your guests. I recommend ordering an extra portion if you do not make any side dishes. You certainly do not want to upset your guests because of lacking food.
How Much Is 10 Inch Pizza Calories?
Compared to large pizzas, the 10-inch size does not provide too many calories. The entire pizza produces somewhere between 900 and 1200 calories and a single serving generates around 150 calories. This also means you can exceed your daily nutritional standards if your craving has not yet been saturated.
It is only my estimate because the average calorie count depends on the type of extra toppings and crust. Your dietary preferences determine the total intake. Do not hesitate to go for veggie alternatives or thin crust for a balanced meal to stay healthy.
How To Cut 10 Inch Pie Into Generous Slices
There are two 10-in pizza shapes, and you also have two different standard cutting techniques:
Square pizzas: cut a diagonal to divide the square into two triangles. Continue doing this with the rest to get 4 large slices of pizza. Work on each triangle with a vertical cut if you want to subdivide further.
Round pizzas: Select a center point and slide the clipping from edge to edge. Make one more perpendicular cut to form 4 equal parts. Keep dividing the servings in half until you reach the desired number of pieces.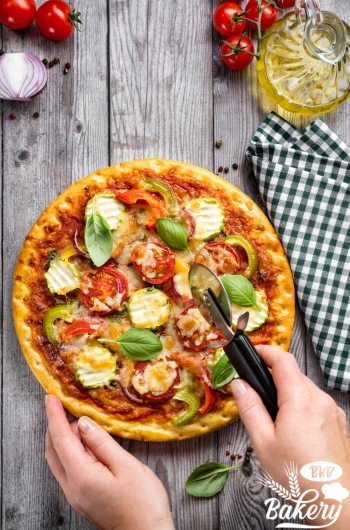 Now it is done with the technique, and you still need to learn some smooth-cut tips. Some of the personal experiences that I have accumulated include:
Invest in a pizza rocker: This tool is a popular choice for working with small to medium-sized pizzas with thin crusts.
Always have a sharp blade: Regardless of whether you use a knife or cutter, sharpen it before working. A blunt knife only leaves a mess behind, and the toppings will not be divided equally.
Do not hesitate to try different cuts: There are no set rules for presentation, so let your creativity take the lead. Triangles, squares, or even strips are fine.
Take advantage of cutting boards if available: This ensures a flat cutting surface and reduces the impact on your tabletop.
Let the pizza cool down: The melted cheese may hinder your smooth cut since it creates a slippery contact. Plus, it can burn your fingers too.
FAQs
How Many Slices Are In A 10 Inch Papa John's Pizza?
10-inch pizzas from Papa John's follow the standard size, which means they consist of 6 slices.
How Many Slices Are In A 10 Inch Domino Pizza?
The same thing applies to Domino – its 10-inch delicious pizzas can yield 6 pieces.
Is 10 Inch Pizza Enough For 3?
The quick answer is YES. Still, it is just enough for one if you treat hungry folks or pizza lovers.
Is A 10 Inch Pizza Considered Large Or Medium?
The 10-inch size is considered a small or personal pizza.
Conclusion
10-inch pizza feeds, how many? In short, this affordable option is the ideal size for a small group or a hungry individual. If you plan for a larger gathering, this is not the choice.
Otherwise, it would help if you prepared more side dishes to serve your guests. It is best to contact your local store to find out how many pieces per pizza box. You must know the exact number to have the best preparation stage.
See more: How Big Is A 16 Inch Pizza?