Gone are the days when traditional wedding cakes held an unwavering dominance over wedding receptions. In this era of artistic expression and personalization, couples around the world are embracing a plethora of innovative and creative decorating ideas. Check out our article for cupcake wedding cake ideas that will inspire your imagination.
In This Article
20 Best Wedding Cupcakes Ideas
Classic White
The chic white color has never gone out of style in wedding cupcakes decorations. A tower of white cupcakes with buttercream frosting adorned with delicate sugar flowers and gold paper liners will leave your guests in awe.
Flower Details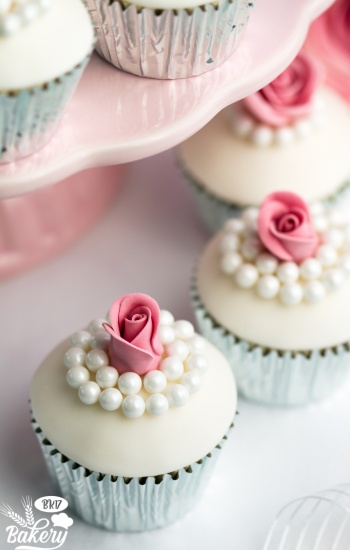 Nothing is better than cupcakes dotted with vibrant flowers calling for an afternoon tea. You can incorporate small pink five-petaled daisies along the edge of the cake, along with tiny pearl beads. For my part, I often put a large blossom fondant at the top to catch everyone's eye.
Elegant Lace
A traditional and formal ceremony can never be complete with lace details. Then why not apply it to your delicious desserts? Recreating the lace design on the bride's veil or wedding dress is a great idea to convey a personal touch.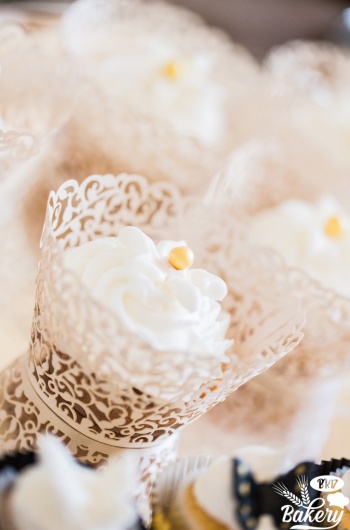 Pearl Sprinkles
Even if you have little time, it is not impossible to decorate your cupcakes. Busy brides can prepare their treat by arranging small fondant balls on top and then scattering some edible pearl dust over the surface.
Fruit Toppings
You only need a fruit topping if you already have cupcakes with whipped cream. Try ones with a natural sourness that balances the cake's sweetness well. My all-time favorite combinations are sliced strawberry with vanilla, raspberry with chocolate, and cherry with black forest flavors. I'm sure you'll never go wrong with that!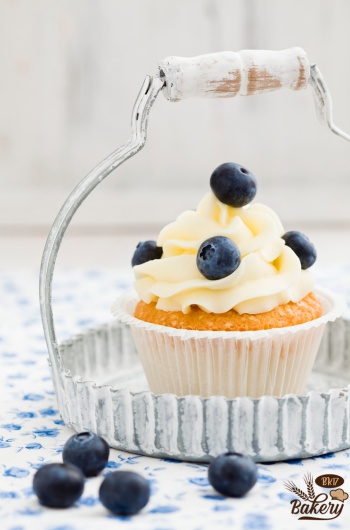 Ring Toppers
This design is born for couples who love glamor and a magnificent vibe. Upgrade the standard culinary creation with white frosting by adding a pair of faux rings atop and embellishing with shimmering silver pearls. Each cupcake now comes into sight with an adorable arrangement that complements your vows.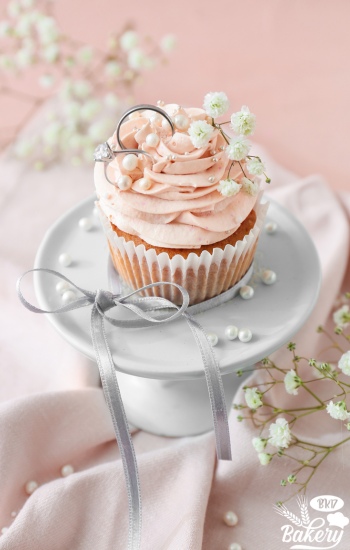 Mixed Cupcake Size
Consider this idea when you are not sure about the taste of your guests. I often combine mini and regular sizes to satisfy different sweets needs. It is also a quick solution when I am short of time for decorating. Simply line the cupcakes in a circle on the inside, then the regulars on the outside, and you have an eye-catching tower.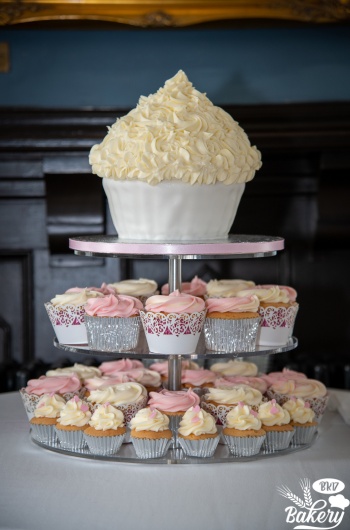 Wedding Cupcake Tiered Display
Simply placing all the cupcakes on a dessert table is a disaster everyone should sidestep. That approach feels outdated and occupies valuable space. Transform these delightful mini cakes into spectacular wedding cakes by arranging them on multiple tiers. A staircase of colorful cupcakes undoubtedly captivates more attention than a traditional display.
Add Bacon Bits
Bacon is necessary for country parties, but have you ever considered combining it with a sweet dessert? Trust me; it is a hit to your taste buds. Do not hesitate to add crispy bacon and mini waffles as toppings for your cupcakes and surprise your guests.
Fondant Accents
Working with fondant opens up a world of creative possibilities, and turning it into custom stamps is a fantastic idea for the bride and groom. By showcasing the couple's monogram or initials, you can create eye-catching highlights in a truly special and memorable way.
Multiple Toppings
The world of toppers offers so many choices that it confuses you. Then pick all your favorites for your special occasion, as diners cannot refuse this generosity and thoughtfulness. However, I only recommend 2-4 variants that go well with the party's main theme. Otherwise, your event may become an elaborate afternoon tea affair.
Cute Succulents
For those looking for a breakthrough not only in decorating cupcakes but also in the main theme of the special day, captivate the allure of a tropical dry paradise. By the way, transform your desserts into delightful succulents and cacti that enchant everyone in attendance.
Topped With A Naked Cake
While cupcake towers have advantages, one drawback is that couples miss out on the traditional cake-cutting ceremony during their wedding day. However, combining wedding cake with cupcakes can easily resolve this issue, creating a striking visual centerpiece.
Two-Tier Cupcakes
If you do not want to invest in a conventional wedding cake, arrange the mini cupcakes into two tiers. This way, you can create an elegant cake perfect for traditional rituals, all while keeping costs down.
Take Advantage Of Real Flowers
If edible petal patterns fail to capture the essence of floral fantasy, feel free to adorn your sweet treats with real flowers. This exquisite cupcake design wedding infuses your garden parties with romance and elegance, creating a truly enchanting atmosphere.
Use Fresh Herbs
Drawing inspiration from the above idea, a single rosemary sprig can work wonders in enhancing the overall aesthetic and making a lasting impression on your guests. By incorporating this natural element, you can add a delightful fragrance and a touch of greenery to your cupcakes.
Polka Dots
A simple yet effective way to enhance your cupcakes? Consider creating a delightful polka dot effect by incorporating white sprinkles. Additionally, I recommend using colored frosting instead of white to elevate the visual impact.
Bride & Groom Theme
This style is tough even for experienced bakers, but it is worth a try if you are looking for something that stands out. Start with a fresh layer of beige frosting, then get creative with icings inspired by the bride and groom's attire.
Custom Cupcake Holder
Who said that delicious cupcakes must be the main characters? You can also steal people's first glances with custom cups. Let your creativity run wild to enhance the personalization of the wedding. You can write your name or stick small photos into the cupcake wrappers – anything you want.
Seasonally Theme
When it comes to a seasonal theme, the possibilities are endless. If you are fond of fall, incorporate red-orange leaves into your cupcakes. Alternatively, create a winter wonderland with snowflake-shaped frostings and adorable snowman-shaped cookies.
6 Popular Cupcake Flavors For Wedding
Vanilla
This wedding cupcake flavor dominates weddings for a good reason. It is a versatile option that is transformed in numerous ways. If you prefer a classic approach, leave it as is. On the other hand, top with a chocolate frosting to push its taste to new heights.
Chocolate Peanut Butter
Don't be surprised; these two flavors are a winning combination, even for cupcakes. When you find yourself craving a break from chocolate, peanut butter comes to the rescue with its delightful dance on your tongue. For an extra touch of indulgence, sprinkle some roasted nuts on top.
Lemon And Berry
Surprisingly, this classic flavor combination is often overlooked but worth a try. The naturally sweet and tangy taste of lemons provides a refreshing palate cleanser after a hearty meal. Pairing it with a luscious blueberry frosting adds a touch of summer vibes to the mix.
Salted Caramel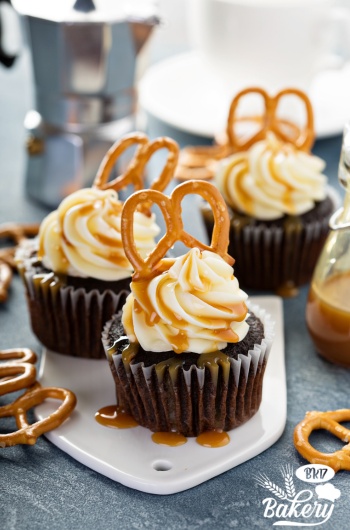 This type of cupcake flavor achieves a harmonious balance between savory and sweet, making it an ideal finishing touch to a satisfying meal. To enhance its flavor profile even further, I always add crispy toasted nuts. This addition introduces a delightful nuttiness that creates a deep and complex flavor experience.
Red Velvet
To begin with, the captivating red color, symbolizing love, makes it an ideal option for the bridal shower. And when it comes to taste, the blend of the fluffy texture and creamy cheese frosting brings out a delectable treat that no one could resist.
Tiramisu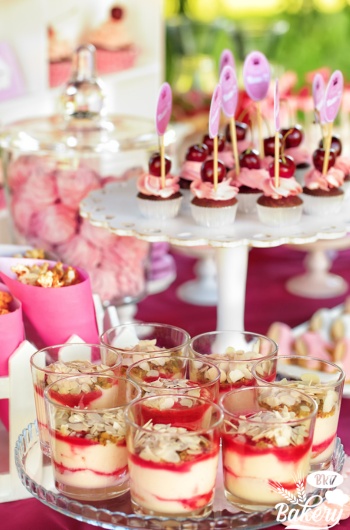 Regarding the cupcake flavor list, nothing surpasses the heavenly delight of tiramisu. Every bite of this delectable treat elevates me to cloud nine. Fortunately, I discovered that cupcakes can also yield the same sensational flavors through the harmonious combination of chocolate, coffee, and mascarpone. It is truly a blessing to experience such decadence in a portable and delightful form.
How Many Cupcakes For A Wedding?
The number of guests greatly determines the cupcakes you need for your ceremony. In my experience, each adult demands 1-2 cupcakes as a delicious dessert. Hence, I often prepare around 60-70 cupcakes of small sizes for a cozy wedding of 50 guests. Similarly, you should prepare at least 220 portions to treat 200 people.
Remember that the appetite is also in the game. Of course, you know your guests better than me, so I cannot give you an on-point recommendation. One general rule is to prepare more for those with a sweet tooth.
Do not worry too much about redundancies since you have plenty to handle. For example, I wrapped the leftovers in beautiful little boxes and gave them to the dedicated servers at my wedding reception.
See more: Cupcake Sizes Chart: Mini, Standard, Jumbo Or Oversized?
FAQs
Are Wedding Cupcakes Less Expensive Than A Wedding Cake?
YES. Wedding cakes are large and designed to serve a higher number of guests. As for simple wedding cupcakes, you have individual servings already portioned out, eliminating the need for slicing and serving. It is cost-saving, especially for large-scale parties, since you need as many cupcakes as you would cut from a cake.
How Long Do Wedding Cupcakes Last?
Decorated wedding cupcakes stay moist and delicious for three to four days. However, it is important to note that their quality may gradually decline over time.
Conclusion
Today, couples opt for charming, sweet dishes that reflect their personalities and provide a delightful treat for their wedding guests. Whether you envision a rustic outdoor affair, a romantic garden anniversary, or a glamorous evening soirée, there are cupcake ideas for weddings to complement every theme and style. Embrace their charm and versatility and let your love story unfold in a delectable array of flavors, colors, and artful designs.