KitchenAid mixers are a game-changer in my kitchen. Their quality has captured my heart – durability, efficiency, and a classy appearance. I also love that the manufacturer offers many color and size options.
This means you should consider the size chart to find the right one for your countertop space. So what is the KitchenAid mixer's width and height? Scroll down to learn.
In This Article
How Many Sizes Of KitchenAid Mixers?
| | | |
| --- | --- | --- |
| Series | Representative Models | Dimension |
| Commercial | KSM8990NP | 14.6″D x 13.3″W x 16.5″H |
| Pro-Line 7 Quarts | KSM7586PCA | 14''D x 11.5''W x 16.5''H |
| Professional 6500 | KSM6521XSR | 14.3''D x 11.5''W x 16.5''H |
| Professional 600 | KP26M1X | 14.6''D x 11.3''W x 16.5''H |
| Professional Series 5 | KV25G0XSL | 14.6″D x 11.3″W x 16.5″H |
| Classic | K45SS | 14.1''D x 8.7''W x 13.9''H |
| Artisan | KSM150PS | 14.1''D x 8.7''W x 13.9''H |
| Deluxe | KSM97SL | 11.25''D x 8.7''W x 13.9''H |
| Artisan Mini | KSM3316X | 12.3''D x 7.8''W x 12.3''H |
| Classic Plus | KSM75 | 14.1''D x 8.7''W x 13.9''H |
Commercial
This series takes the top spot in size and power output among the KitchenAid mixers on the market. I bought it for my cake shop, and it was absolutely the right decision. I was into the 8-quart mixing bowl that handles the dough for a large batch of cookies.
The powerful engine did not disappoint me either. The metal gear system worked well with most ingredients, so I did not have any problems working with great volumes of flour and eggs. The bowl-lift design provides a solid base for the powerful motor, resulting in a smooth and powerful performance.
The commercial series defines powerful and reliable performance to serve professional bakers. However, it does not fit into tight cabinet space. As you can see, it is bulky and heavy, so measure your kitchen countertop before investing.
Pro-Line 7 Quarts
As the name implies, this option features a 7-quart stainless steel bowl. Its dimensions do not differ that much from Commercial, so it can still handle heavy loads. One thing is certain: it will satisfy those looking for a powerful mixer at home.
Pro Line shares many features with its big brother. For example, the 1.3 hp DC motor tackles intensive mixing tasks to produce 15 dozens of cookies in one go. You may also feel familiar with the bowl-lift design and metal gear system.
A few unique characteristics make the Pro Line 7 stand out. Its smaller bowl capacity makes it a more practical option for home bakers than the larger Commercial mixers. The Pro Line 7 is also more affordable while offering similar functionality.
Professional 6500 Design
Seizing the #3 on my list, the Professional 6500 is another giant monster in my kitchen. It inherits the Direct Current motor from its predecessors to handle the heavy load easily. Despite a slight power reduction, the 1 BHP motor still delivers impressive results.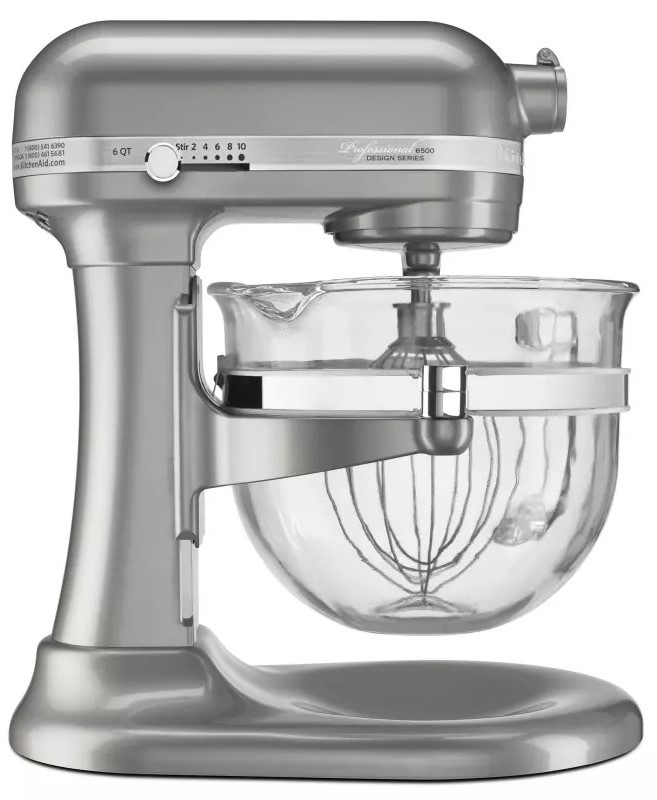 One major design upgrade in this series is the beautiful glass bowl instead of the traditional stainless steel, which stands out on display shelves and looks great in any kitchen. I was particularly drawn to it as soon as I entered the store. I also found it more convenient for cleaning, especially when working with sticky ingredients like honey or peanut butter.
My fascination with its appearance prompted me to purchase it without much consideration. I was surprised by the bowl's weight and the wide base that took up more space than I expected. Luckily, it still fits on my kitchen counter, but it is important to measure carefully before purchasing.
Professional 600
This option comes as the twin of the Professional 6500, but it may appear weaker and more outdated. Its dimensions are unchanged from its counterparts, but the engine is. The 575-watt motor is powerful enough to keep up with baking for small parties. Feel free to use it when making about 8 loaves of bread.
The only complaint stems from the AC motor. As for my hands-on test, it delivered extra torque yet operated noisily. Still, its performance satisfies home bakers who ask for moderate power. The choice of color choices is also a plus. It captures the eyes of those who want to add a vibrant touch to their kitchen to increase their cooking motivation.
Professional Series 5
Now you continue to learn about another bowl-lift model with a 5qt bowl capacity. Despite being KitchenAid's smallest bowl-lift stand mixer regarding output, its physical size stays consistent with machines in the same category. What sets it apart is the 525-watt AC motor – slightly weaker than its predecessors.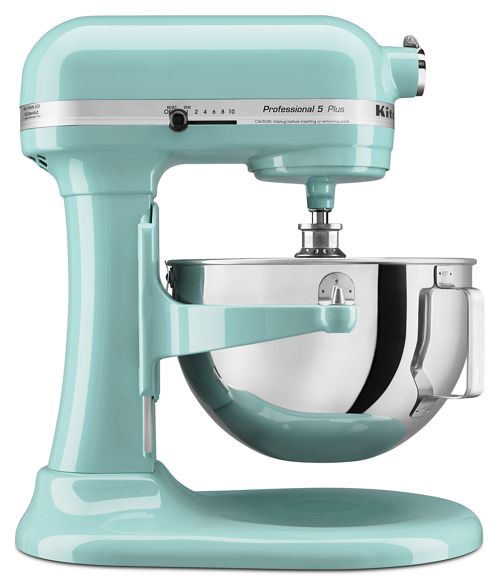 I was concerned about the absence of soft-start functionality. Though I raised my guard when switching between levels, the machine left a mess on the tabletop as the paddle splashed egg whites everywhere.
I never want to dedicate the rest of the weekend to cleaning up after the delicious batches come out of the oven. That's why I did not invest in the Professional 600, even though it has maintained its place on the best-selling list for the past two decades.
Classic
From now on, move on to another design – a tilt-head stand mixer, which means that the head of the mixer can be tilted back for easy access to the bowl and attachments.
As for the Classic mixers, this option is slightly smaller than large-capacity machines (both in width and height). The absence of a solid base to withstand the vibrations makes it space-saving
The cooking capacity also reduces to 4.5 quarts, but it handles a dense cookie dough well and makes up to 8 dozens of cookies in one go. Plus, it gets the job done for most everyday recipes, thus getting favor from home chefs. Another standout feature of the KitchenAid Classic is the range of available mixer attachments. These add-on tools are born for multi-purpose, from grinding meat to making pasta.
Artisan
It is easy to notice that Classic and Artisan models take up the same footprint on your tabletop. In other words, the height, depth, or width are equivalent. It may take you a moment to discover that the only difference between them is the bowl size capacities, as Artisan serves 0.5 quarts more than its cousin.
If you look for a clear distinction, shift your attention to technical specs, including engine, power, and gears. The KitchenAid Artisan mixers provide over 50W of power and operate based on a direct drive transmission. This means it generates more torque to work the thick, doughy mixture. The metal gear system also guarantees better durability.
Deluxe
Deluxe Mixers is a cross between Classic and Artisan, so it boasts outstanding features of both to deliver a good user experience. Its size remains unchanged except for the depth. For those who do not know, the base is smaller to save space on the kitchen cabinets.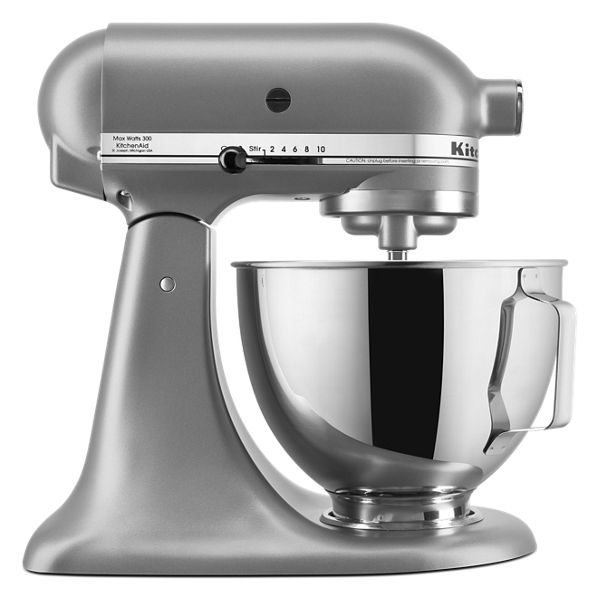 Regarding performance, the KitchenAid Deluxe outperforms two counterparts due to the 300-watt DC motor, which pumps out extra torque while remaining quiet.
It comes up with various speed settings, allowing you to control the mixing process precisely. Additionally, the mixer is equipped with a range of attachments, including a wire whisk, a flat beater, and a spiral dough hook, making it easy to prepare various recipes.
Artisan Mini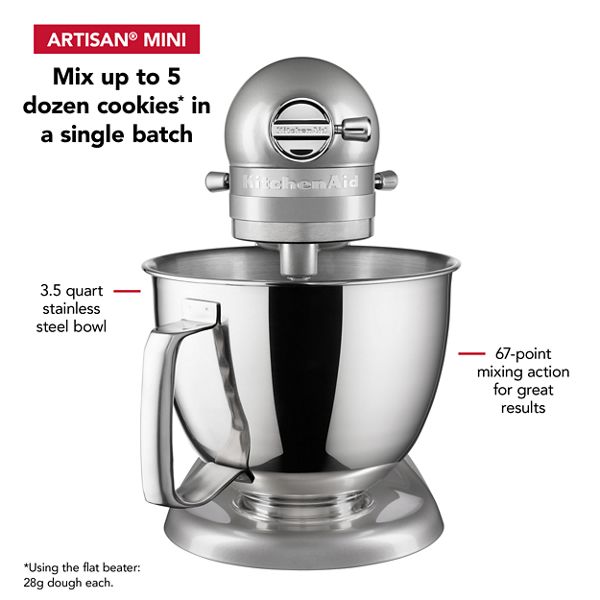 As its name suggests, this series is the best choice for apartment dwellers and those looking for a space-saving solution. The weight, width, depth, and height metrics of the KitchenAid Artisan Mini are around 20-25% smaller than other mixer models on this list.
The good news is that the manufacturer still retains the DC motor to provide plenty of power. Though the 3.5-quart capacity bowl is not for large quantities of ingredients, you can expect great torque to let you finish kneading the bread dough in a snap.
Classic Plus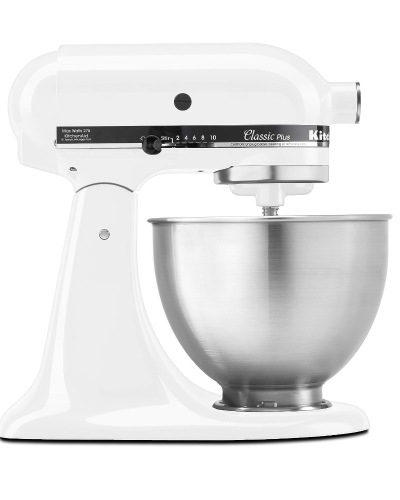 The KitchenAid Classic Plus can be considered a sibling to the Classic model, as they share many similarities. Both mixers have the same 4.5-quart capacity and physical dimensions. They also generate comparable power and ability.
The only distinction lies in their color variety. The Classic model is available in black or white, while the Classic Plus offers an additional silver variant for those who prefer a shiny and neutral look.
FAQs
Are All Kitchenaid Mixers The Same Height?
NO. The height of a KitchenAid mixer varies depending on the model and type of mixer. For example, the Artisan and the Professional 600 series boast different height measurements.
See more: How Much Does A KitchenAid Mixer Weigh? Full Weight Guide
How Long Do KitchenAid Mixers Last?
These mixers are known for their great durability. The proper care and maintenance allow them to win the test of time. While the lifespan of a product varies depending on several factors, many users report that their gadgets last for 10 years or more.
Do KitchenAid Mixers Need Maintenance?
Yes, KitchenAid mixers require maintenance to keep them in good working condition. Cleaning the mixer after each use and lubricating the moving parts once a year is a must.
Conclusion
The size of the KitchenAid mixer varies by professional models. Though some series share similar specs, checking the manufacturing standard and measuring your counter space before purchasing is best.
As a general rule, investing in large machines delivers great power. On the other hand, you sacrifice powerful functionality in exchange for a compact body that fits your kitchen.