The most common factor that comes to mind whenever people scour through Kitchenaid mixer brands is either their function or price.
But total mass and sizes do play an important part, too. After all, how can one expect a smooth baking process when they already feel worn out just by moving the heavy mixer around?
My guide will delve into the Kitchen aid mixer weight and extra storage tips for your optimal convenience. Keep scrolling for more of my take!
In This Article
What Is The Weight of A KitchenAid Mixer?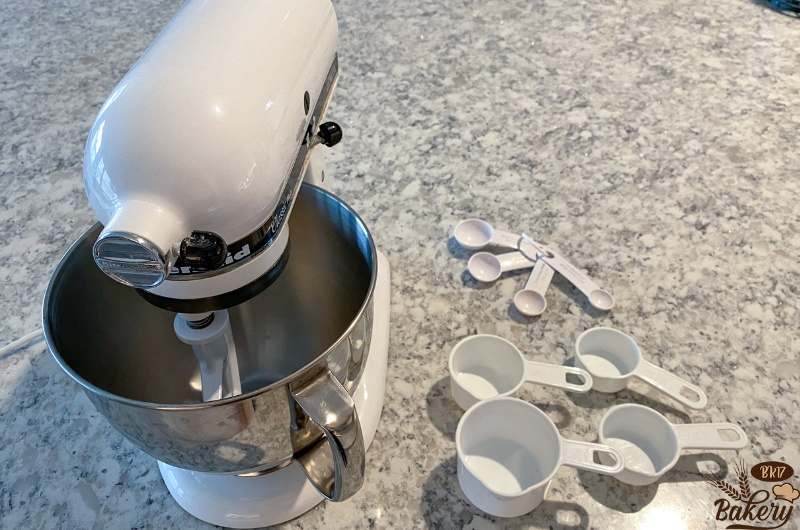 KitchenAid models have a broad weight range, with the lightest being 18 lbs (Artisan Mini) and the heaviest at 37 lbs (Professional 6500 Designs). The remaining models fall between these two numbers.
Plus, KitchenAid's tilt-head models are always about 20-40% lighter than their bowl-lift ones. My KitchenAid stand mixer weight chart below will sum it up for you:
| | | |
| --- | --- | --- |
| Stand Mixer Models | Weight (Kg) | Weight (Lbs) |
| Artisan Mini | 8.1 | 18 |
| Artisan Series 5 | 11.8 | 26 |
| Artisan Designs | 13.2 | 29 |
| Classic | 11.3 | 25 |
| Classic Deluxe | 11.8 | 26 |
| Professional 5 | 13.2 | 29 |
| Professional 600 | 13.2 | 29 |
| Professional 6500 Designs | 16.8 | 37 |
| Pro-Line | 14.5 | 32 |
| Commercial | 14.1 | 31 |
Want to explore more mixer dimensions and features than just the KitchenAid mixer weight? Here we go:
1. Artisan Mini
Total Weight: 8.1 kg or 18 lbs
Artisan Mini is the best choice for ultimate space savers. As the smallest mixer in the KitchenAid lines, the model tips the scale at a mere 18 pounds – 25% lighter weight than its Artisan 5 brother!
Hence, even beginners will feel no qualms about moving Artisan mini around during baking and cooking – and better yet, the counter space it takes up in your kitchen is almost non-existent.
I'm also delighted with the inclusive 67 touchpoints on the sides of its 3.5-quart mixer bowl, ensuring terrific mixing results. The package also comes complete with a flex edge beater, coated bread dough hooks, and six-wire whisk attachments.
2. Artisan 5
Total Weight: 11.8 kg or 26 lbs
Artisan 5 is the very first Artisan mixer type to be released before Mini versions came around in 2008.
Despite being listed as an "old" model, its popularity remains regardless! The model keeps being sold out every month, and I believe the diverse color ranges are among the reasons: their 30+ color options ensure you can land on one that suits your personality and style best!
With its 5-quart size bowl, I can make batches of dough for 4 bread loaves and 38 crumbl cookies in one batch with zero difficulties. And while that seems like a daunting task, my hands barely feel worn out at all – all thanks to the very comfortable bowl handle on the side.
Aimed by a powerful 325-watt motor pack, Artisan 5 is more than capable of satisfying all baking needs and recipes – whether you want to stir dry and wet ingredients, whip cream, or knead tough doughs.
The mixer also offers a coated flat beater, six-wire whips, pouring shields, and wet dough hooks for optimal convenience.
3. Artisan Design
Total Weight: 13.2 kg or 29 lbs
At first glance, it seems Artisan Design is an identical mixer to Artisan 5 but with a slightly fancier name. However, after the first trials, I realized Artisan Design has a five-quart glass-mixer bowl (with clear measurement markings), not the usual stainless steel one that Artisan 5 arrives with.
This see-through bowl is a blessing for me; I can precisely gauge my recipe and dry ingredient proportions to control and ensure the best mixer result. Gone are the days I had to figure things out with my eyes or "hand feel"!
The coated dough hooks, wire whips, and flat metal beaters seal the deal for everyone.
4. Classic
Total Weight: 11.3 kg or 25 lbs
Here comes the first KitchenAid compact model – long before Artisan Mini claimed that title!
Like the KitchenAid Artisan series, Classic is popular among home bakers of smaller-sized families or residences. Its moderate 275-watt motor might not seem like a great competitive edge for larger batches of food, but still decent enough to have the jobs done.
The mixer bowl (4.5 quarts) can handle two loaves of bread at maximum. And bowl aside, the pack also covers:
Flat pastry beater
Wire whips
Dough hooks
Detailed guides with instructions, 67 recipes, and mixing tips
5. Classic Deluxe
Total Pack Weight: 11.8 kg or 26 lbs
As the term "Deluxe" includes, it is an updated version of KitchenAid's classic mixer. These upgrades range from subtle ones (300W motors and silver coating instead of the regular white) to more major changes.
Its soft-start, for instance, is not something to be skipped ever; this function ensures you can start your mixer at slower speeds before gradually reaching the desired rates. As such, you never have to worry about heavy ingredients flying around!
The capable 4.5-quart handled bowl is a true delight, easily mixing 8-9 dozen cookies in one single batch. This model also offers six-wire metal whips, dough hooks, and coated flat beater (all silver strips).
6. Professional 5
Total Weight: 13.2 kg or 29 lbs
Professional 5 is the smallest bowl-lift mixer in the KitchenAid's line, weighing only 29 lbs. And here is some great news for tight-budget customers: apparently, Professional 5 is also among the cheapest!
The 525-watt motor is a sure upgrade from the old 325-watt Artisan, which means mixing tough pizza dough and bread is a breeze. It is also the very first bowl-lift model to fit spiral dough hooks and Powerknead, even providing you with an extra flex beater.
Better yet, the 10 optimization speeds and 67 mixer touchpoints make Professional 5 a beast in any recipe or task. You can handle 9 dozen small cookies simultaneously with its 5-quart mixer bowl.
7. Professional 600
Total Weight: 13.2 kg or 29 lbs
Consummate bakers looking for sturdy, popular mixers will fall in love with Professional 600. The mind-blowing 575W motor surely does the job, making every large batter or dough batch a breeze to make.
And despite being at the same weight as the 5-quart bowl of Professional 5, the Professional 600 delivers one extra quart for its mixer bowl (6 quarts in total). This actual capacity can handle 8 bread loaves, 13 dozen smaller cookies, or mashed potatoes of 8 pounds in the same batch!
8. Professional 6500 Designs
Total Weight: 16.8 kg or 37 lbs
Professional 6500 marks the point where we transition into powerful horsepower territories.
Its DC 1-hp motor makes them one of the most powerful – and, unfortunately, also one of the heaviest at a whopping 37 pounds.
The fact that it arrives with a heavier-glass mixer bowl (rather than the usual stainless steel bowl with handle) might also contribute to the extra load.
9. Pro Line
Total Weight: 14.5 kg or 32 lbs
A great choice for beginners turning professional bakers, the Pro Line is packed with 1.3 hp of power and 7-quart mixer bowls. Feel free to use commercial 3-quart, 5-quart, and 6-quart alternatives along with them to make faster batches of cookies.
A slight drawback, though: with its impressive four capacity (16 cups), Pro-Line is the second most heavyweight mixer.
10. Commercial
Total Weight: 14.1 kg or 31 lbs
At 31 pounds, Commercial is, unfortunately, also on the heavyweight side of the spectrum. Like its Pro-Line sibling, the Commercial DC motor is packed heavy with 1.3 horsepower, easily handling any whipping, melting, and mixing tasks you assign to it.
To seal the deal, the KitchenAid team equips Commercial with a large 8-quart capacity, which can fit heavy dough batches of 8 pounds for crust, bread, egg whites, and compost cookies in the same bowl.
Factors That Affect The Weight of A KitchenAid Mixer
The weight of KitchenAid mixer depends on its capacity, materials, and accessories. Specifically, higher-capacity ones are heavier due to metal components and powerful motors. Premium materials (aluminum, heavier glass bowls, etc.) also add to its total load.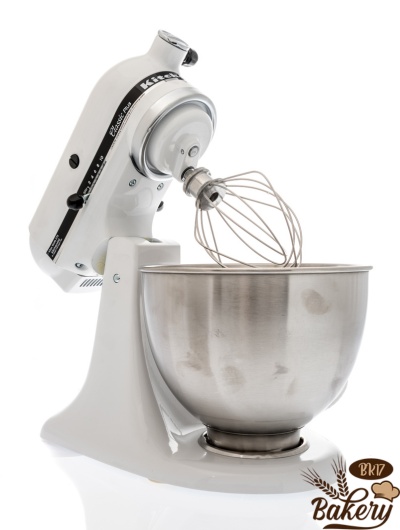 And you should not skim over additional attachments and kitchen appliances, either. For instance, mixers with extra beaters and stiff dough hooks clearly weigh more than models without those.
How Much Does A Kitchenaid Mixing Bowl Weigh?
KitchenAid mixer bowls weigh 1.2 to 6.42 pounds (for tilt-head designs) and 2.35 to 8.4 pounds (bowl-lift designs). Some are made with transparent glass to help users see through the measurement markings, so handle them with more caution.
Where to Store KitchenAid Mixers?
You may keep them around stable countertop spaces (to show people their designs) or in pull-out drawers for easier access. If desired, consider mixer-lift base cabinets since they combine both countertop and storage functionality.
And do not forget to use mixer covers, which help protect them from grease and dust.
What Is The Perfect Size of KitchenAid Mixers To Fit My Kitchen?
Smaller kitchens will work best with 2-3 quart mixers of 13 to 18 pounds (Kitchenaid Artisan Mini). Medium kitchens are suited to 4-5-quart capacity and 25 to 26 pounds (Classic, Classic Deluxe, and Artisan 5). Anything from 29 pounds and 5 quarts onwards belongs to larger spaces.
Conclusion
My guide has provided a full chart on how heavy a KitchenAid mixer is. It can be as light as 18 pounds or rise to a whopping 37!
Use my guidelines to assess your baking needs, kitchen space, preferred colored base, and extra accessories for the best purchase. Contact me if you still need advice on KitchenAid's weight and power output.
See more: How Long Do KitchenAid Mixers Last? Is There A Warranty?